Program Information
Overview & Training Prerequisites
The neuroradiology training program emphasizes excellence in teaching, cutting edge technology, and superb case material. It is supported by the University of Wisconsin Medical School Department of Radiology, University Hospital, American Family Children's Hospital, and the William S. Middleton Memorial Veterans Hospital.  Prerequisites for the training program include completion of an approved residency training program in radiology. The first year of the neuroradiology program is accredited by the American College of Graduate Medical Education (ACGME).
Applicants will be considered for both one year and two year training programs. The two year diagnostic training program is divided into a 12-month fellowship and a 12-month clinical instructorship. Following completion of the first year, candidates will be eligible for the certificate of added qualification (CAQ) in neuroradiology.
About the Neuroradiology Section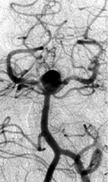 The UW-Madison Neuroradiology Section has a highly stable force of 15 subspecialty fellowship-trained, full-time, part-time and emeritus faculty including the current and 3 past Presidents of the American Society of Neuroradiology (ASNR). We have 6 NIH-funded principal investigators pursuing a broad range of neuroimaging research as well as several faculty devoted to innovative education for the next generation of neuroradiologists. We provide neuroradiology services for the 592-bed University Hospital and its many outpatient clinics as well as the neighboring American Family Children's Hospital and William S. Middleton Memorial VA Hospital. We enjoy a long-standing culture of collaboration with imaging scientists in the Department of Medical Physics as well as clinical colleagues in neurology, neurosurgery, otolaryngology, ophthalmology, and hematology-oncology.
The Neuroradiology Section has a strong history of excellent teaching, including having our faculty and fellows as frequent recipients of department-wide teaching awards, as voted by our residents.
Teaching Awards to Neuroradiology Faculty from Residents

1980-1981
Charles M. Strother, MD
1982-1983
Patrick A. Turski, MD
1985-1986
Lanning W. Houston, MD
1990-1991
Curtis Partington, MD, PhD
1992-1993
Wm. Douglas Brown, MD
2007- 2008
Lindell Gentry, MD
2010-2011
Tabby Kennedy, MD
2013-2014
Michael Hartman, MD
2015-2016
Greg Avey, MD
Teaching Awards to Neuroradiology Fellows from Residents

2011-2012
Vanessa Hardin, MD
2014-2015
Justin Brucker, MD, PhD
2015-2016
Mariah Bashir, MD
About the Department of Radiology
The Department of Radiology has a stable force of 98 faculty in ten subspecialty sections and many of our faculty are world-renowned for their contributions to research and education in radiology. Our faculty interpret more than 700,000 exams annually from our academic hospital and multiple community based hospitals and clinics. UW Health has invested significantly in our facilities and equipment over the past 10 years, and this commitment is evident throughout the state-of-the-art 80,000 sq. ft. clinical care area that we enjoy. Our research faculty collaborate closely with scientists on the UW campus and in the Department of Medical Physics in a 60,000 sq. ft. imaging sciences research center, part of the Wisconsin Institutes for Medical Research (WIMR). The imaging research center provides an unprecedented resource that translates innovation from bench to bedside and spans a scope from mouse to man. The center includes advanced MRI, CT, PET (including combined PET-MRI), cyclotron, radiochemistry, digital angiography, ultrasound, and magnetoencephalography systems for small animal, large animal, and human research applications. Our industrial partners have provided state-of-the-art imaging equipment and access to research platforms for our scientists to create new imaging methods and applications. The imaging research center provides state-of-the-art laboratory, office, teaching, and interactive space for more than 250 Radiology and Medical Physics researchers.
One of only two cities in North America situated on an isthmus, Madison shares many qualities with other well-known "college towns" like Berkeley and Austin – including a creative and educated population – but retains a small-town feel. There are many outstanding restaurants, an active theater community, live music, more than 250 parks, a plethora of summer and winter outdoor activities and good shopping – yet Madison is just minutes from the beautiful rural countryside. National groups and magazines rank Madison highly for being a very bike-friendly city and a great place to raise a family. Madison was named "#1 Best Place to Live" (among 100 U.S. cities) for 2015 by Livability.com.