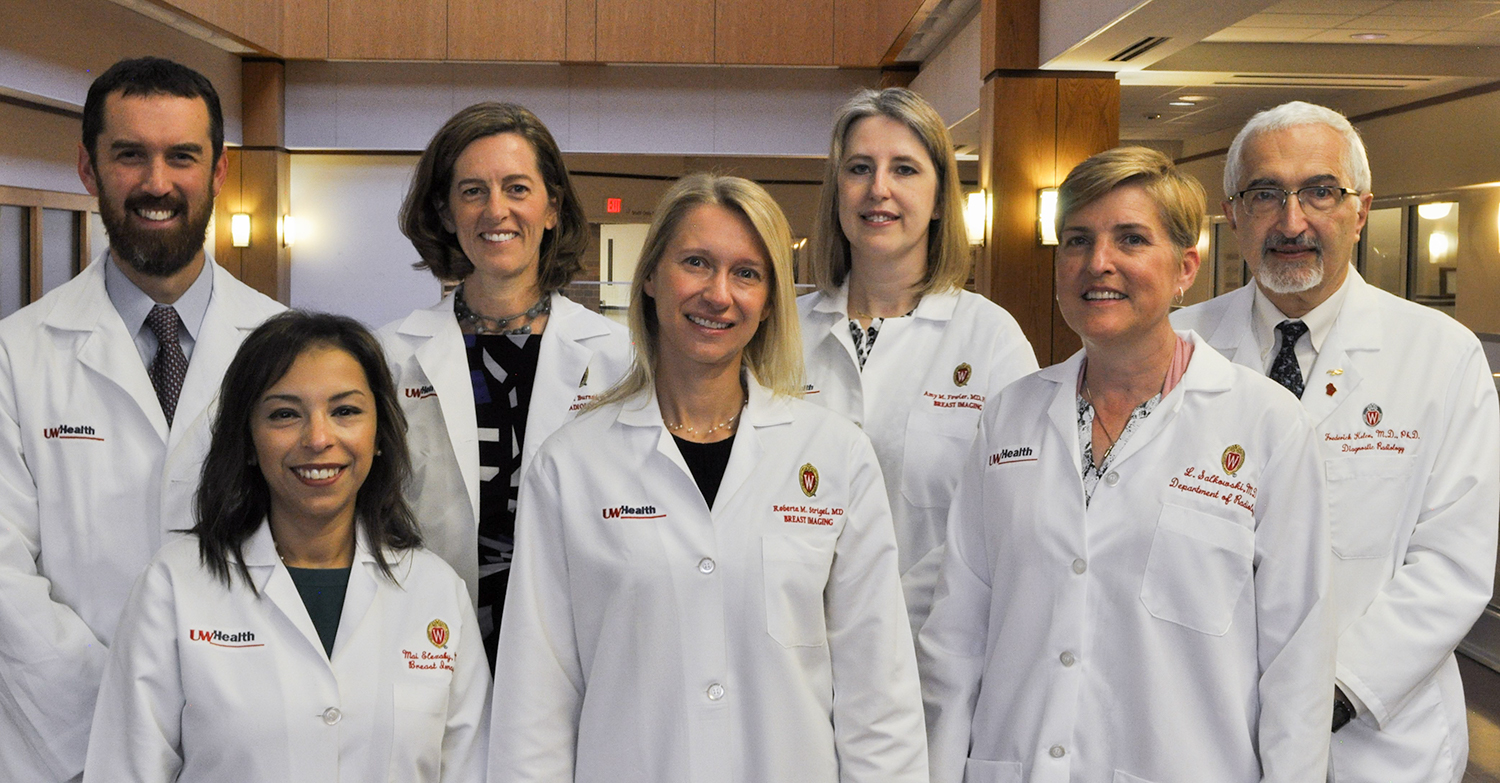 The Breast Imaging Section offers a 12-month fellowship supported by the Department of Radiology, the University of Wisconsin School of Medicine and Public Health, and University Hospital. The fellowship offers extensive experience in digital screening and diagnostic mammography, digital breast tomosynthesis, breast ultrasound, breast magnetic resonance imaging (MRI), interventional procedures (including image-guided wire and radioactve seed localizations and stereotactic, ultrasound-guided, and MRI-guided core needle biopsies). Additional training is provided in the epidemiology, diagnosis, pathology, and treatment of breast cancer and radiology-pathology correlation. Fellows are appointed to the faculty as clinical instructors and receive faculty benefits including vacation, a book fund, and travel reimbursement. Academic time is available to support research and other academic activities.
The Department of Radiology Breast Imaging Section provides image interpretation and imaging-guided interventions of the breast. Fellows are fully integrated into the section and work closely with the faculty interpreting imaging, performing procedures, consulting with clinical providers, and assisting with the multidisciplinary care and evaluation of patients with breast cancer. The program meets the requirements and recommendations of the Society for Breast Imaging (SBI) for breast fellowships.
The goals of the breast imaging fellowship program are to prepare fellows for a breast imaging practice in either academic or private practice by providing training in all breast imaging modalities, interventional procedures, breast anatomy and pathology, regulatory requirements, education, and research. Trainees will become familiar with the FDA accreditation and regulatory roles in breast imaging, including peer review standards and quality control measures.
Current Breast Imaging and Intervention Fellows
Conferences
Conferences are an essential part of training during the breast imaging fellowship. Participation is thus required at a variety of clinical and educational conferences throughout the year including:
A weekly multidisciplinary breast care conference where patient management is discussed in collaboration with our colleagues in breast surgery, radiation oncology, medical oncology, and genetics.
A weekly breast imaging and pathology conference, which is a rad-path correlation conference with participation from radiology, breast pathology, and clinicians. Breast biopsies are reviewed with decisions on concordance and follow-up determined by consensus.
Bi-weekly fellow breast imaging "journal club" where essential literature in breast imaging is reviewed, as well as important topics such as Audit benchmarks, ACR accreditation, and MQSA.
Attendance at all didactic and case conferences given to the residents by the breast imaging attendings. Fellows will be expected to give at least one resident didactic or case conference during their fellowship.
Presentation of research papers by fellows at national conferences is supported by the department.