MEET THE TEAM
There are 17 people who work regularly on the CT Protocol Optimization team, with contributions from many others in the Radiology and Physics Departments who are too numerous to mention herein. These experienced and qualified team members range in responsibility from radiologists with diverse subspecialties, to medical physicists, to technologists and radiology managers, to an administrative professional. Their roles on the project team are reflected below:
Aumann Lisa, MBA – Project Administrator
Avey D Gregory, MD – CT Section Lead-Neuroradiology
Bartels Carrie, RT – Lead CT Project Technologist / Senior CT Technologist
Bour K Robert, MD – Validation Support and CT Modality Chief-Community
Bruce Richard, MD – PACS and Radiance QA Programming
François J Christopher, MD – CT Section Lead-Cardiovascular
Gill G Kara, MD – CT Section Lead-Pediatrics
Kanne P Jeffrey, MD– CT Section Lead-Chest
Lubner G Meghan, MD – CT Section Lead-Abdominal
Nowakowski Kandace – CT Radiology Manager-The American Center
Pozniak Myron, MD – CT Protocol Project Manager/Team Lead
Pulfer Kari – CT Radiology Manager-1 South Park Street Clinic
Ranallo Frank, PhD – Medical Physicist
Stephenson W Jason, MD – CT Section Lead-Musculoskeletal
Szczykutowicz Tim, PhD – Medical Physicist / ISO Specialist
Wasmund Peter, RT, MBA– CT Radiology Manager-University Hospital
Wendt Gary, MD, MBA – PACS and Radiance QA Programming
The fusion of the clinical expertise of our radiologists, the technical oversight of our physicists, and the practical feedback of our technologists is essential to the success of this entire program. The process of routine collaboration among the team members has led to the development of a very robust set of CT protocols. As technology changes and the medical sciences advance, UW's protocols continue to evolve.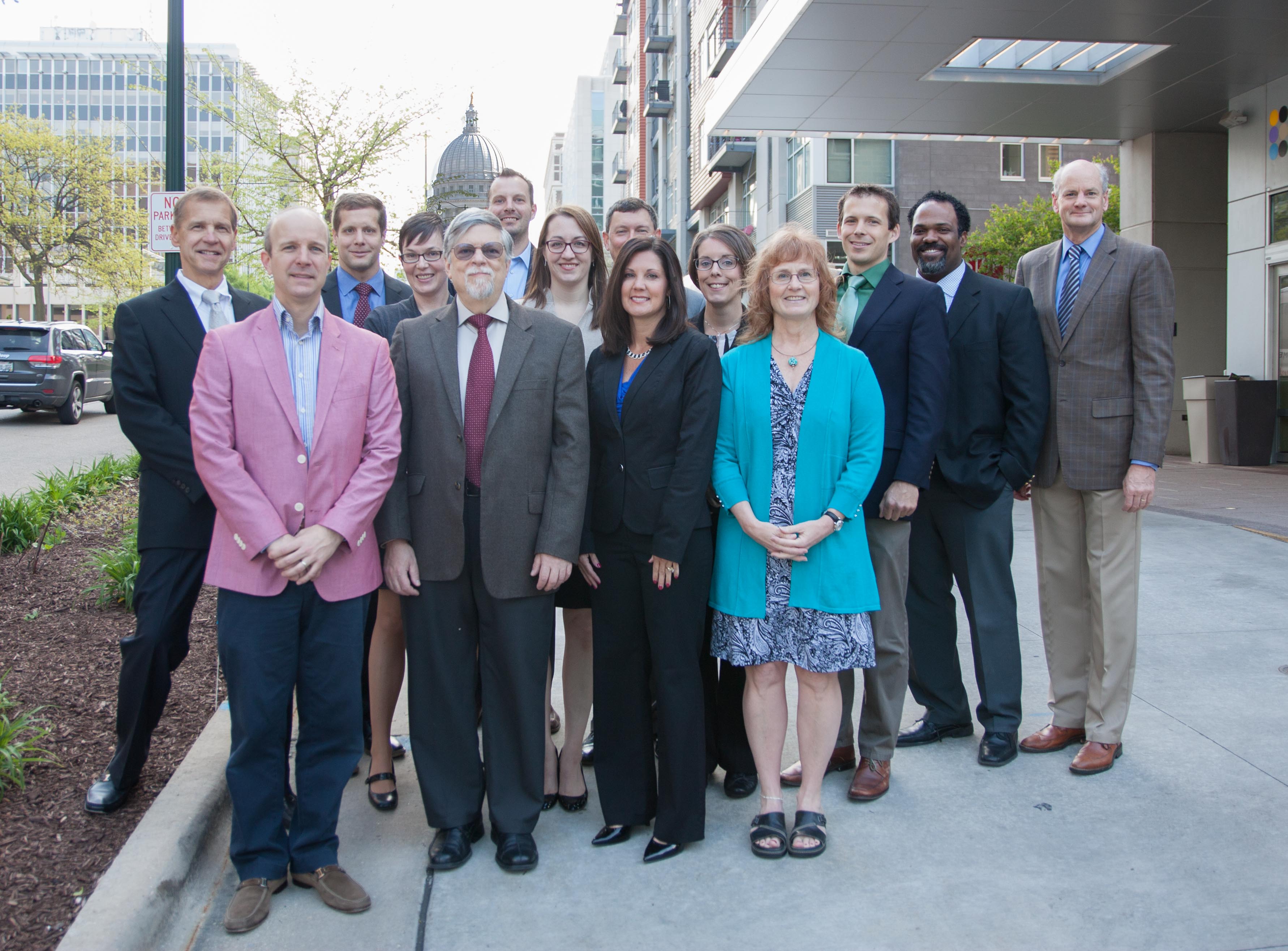 UW CT Protocol Optimization Team Photo
Back Row, L-R:Myron Pozniak, MD; Greg Avey, MD; Meg Lubner, MD; Pete Wasmund, MBA,RT(R); Kara G. Gill, MD;
Rob Bour, MD; Kandace Nowakowski, MSM,RT(R); Tim Szczykutowicz, PhD, DABR; Jason Stephenson, MD; Tom Grist, MD
Front Row, L-R:Chris François, MD; Frank Ranallo, PhD, DABR; Carrie Bartels, RT(R)(CT); Lisa Aumann, MBA
Not Pictured:Jeff Kanne, MD