Abdominal Imaging and Intervention | Education
The University of Wisconsin School of Medicine and Public Health Department of Radiology and the Abdominal Imaging and Intervention Section support a core curriculum for medical students, residents, and fellows.
Medical School
The medical student program is a required 2-week core class for 3rd and 4th year medical students that involves didactic lectures and daily teaching at the "light-box." Our section provides a large part of the medical student experience, and is actively involved with all aspects of medical student education. Dr. Fred T. Lee Jr is the faculty sponsor for the medical student Radiology Interest Group (RIG), comprised of medical students from all classes who have an interest in medical imaging.
Residency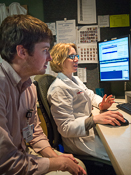 Resident education is a core mission of the section, and includes a biennial lecture series that covers all aspects of abdominal radiology, an abdominal imaging "boot camp" designed to prepare residents for call duties, daily teaching on the clinical services, case conferences, a weekly section teaching conference, and an extensive boards review conference series. Radiology residents are an important part of our clinical service, and participate in all aspects of patient care in abdominal radiology. In addition, the residency program director (Dr. David Kim), two of the associate program directors (Drs. Timothy Ziemlewicz and Jessica Robbins), and the chair of the residency selection committee (Dr. Jessica Robbins) are abdominal radiology faculty.
Fellowship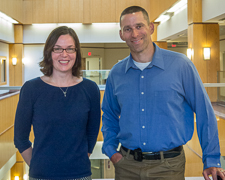 The abdominal/body fellowship program is designed to produce the next generation of leaders in abdominal radiology. Graduates of our program populate leadership positions in both academic and private departments nationwide. The fellowship not only provides a broad experience in all of the typical aspects of abdominal and body imaging, but also provides experiences not generally available in most other abdominal imaging fellowships. These include an extensive exposure to advanced interventional procedures (US and CT-guided abdominal and lung biopsies, image-guided tumor ablation, intraoperative ultrasound, fluid drainages and others) and the opportunity to be a part of the largest single-center screening virtual colonoscopy program in the world.
Learn more about our abdominal imaging fellowship program.
Continuing Medical Education
The Abdominal Imaging and Intervention Section plays host to a biennial CME conference in the Canadian Wilderness: "Practical Imaging and Intervention."  This conference has been given every other year (odd years) since 1995. This year will be our 10th conference! The meeting has rotated between different Canadian fishing lodges, including Hatchet Lake Lodge, Wollaston Lake Lodge, Minor Bay Camps, Knee Lake Lodge, God's Lake Lodge, and Arctic Lodge. All of these lodges are fly-in only, and feature a runway dug into the Canadian tundra. We charter a plane to transport the meeting attendees from Winnipeg or Saskatchewan. The 2017 meeting was July 10-14 at Arctic Lodge. The meeting format consists of lectures during breakfast, daily fishing, a lecture before dinner, and two lectures in the evening. The meeting directors are J. Louis Hinshaw, Fred T. Lee Jr, Michael Tuite, and Paul Christy (Director of Interventional Radiology, Omaha Methodist Hospital). The meeting usually sells out a week after the announcement of dates, so if you wish to be included on the mailing list for future meetings please send an email to Elise Atkinson at MAtkinson@uwhealth.orgicon: send email. The meeting is popular with former residents and fellows who meet up to lie about their fishing prowess, sports teams, and how much harder they worked than classes that followed them!