Education & Training
3D Virtual Colonoscopy
Abdominal Imaging and Intervention | Home
Welcome from the Chief
Thank you for your interest in Abdominal Imaging and Intervention at the University of Wisconsin School of Medicine and Public Health Department of Radiology. Please feel free to navigate around our website to learn about our clinical, research, and educational opportunities. What I believe you will find is a cutting-edge section devoted to excellence and leadership in every part of our mission. Our section is large, diverse, and active on the local, national, and international scene. For example, our section members are authors on over 1350 scientific articles, 150 book chapters, and almost 2000 scholarly presentations. We have won 179 clinical and research awards, and have secured over 23,000,000 dollars in research grants as principal investigators. Our section is the home of two startup companies, one of which is a publically traded company (Novelos, Inc.) that produces highly promising anti-cancer agents, and the other (NeuWave, Inc.) produces a unique high-power gas-cooled microwave ablation system. GE Medical has licensed our low-dose CT protocols for worldwide distribution with new CT scanners, and much of the software you will find on GE MRI scanners was developed here at UW. The Virtual Colonography program has the world's largest single-center experience, and in the ultimate sign of respect, Drs. Pickhardt and Kim were even parodied on Saturday Night Live!
Besides our myriad academic achievements, we pride ourselves on our collegiality. Despite our differences in choices of sports teams, we are dedicated to teamwork among ourselves, our trainees, and our referring colleagues. Providing top-notch patient care whenever and wherever needed is in our DNA. You will find our faculty members in the reading rooms, at the scanners, in procedure rooms, on patient floors, and in the operating room. In recognition of our dedication to patient care, our section was recently honored to receive several important clinical leadership awards including the Presidential Physician Leadership Award (Dr. Fred T. Lee Jr), the Clinical Excellence Award (Dr. J. Louis Hinshaw), and the "Rising Star" for Clinical Excellence (Dr. Meghan Lubner). Lastly, we are strongly committed to the education of the next generation of radiology leaders, and you will find robust programs in medical student, resident, and fellowship training.
Thank you for visiting our website, and we hope you enjoy what we have to offer. Please feel free to contact us with any questions or comments that you may have.
Sincerely,
J. Louis Hinshaw, M.D.
Associate Professor of Radiology
Chief, Abdominal Imaging and Intervention
Vision Statement
The Abdominal Imaging and Intervention Section at the University of Wisconsin will be an internationally recognized leader in clinical practice, research, and teaching of innovative methods to diagnose and treat diseases within the chest, abdomen and pelvis.
General Information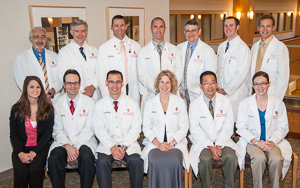 The Abdominal Imaging and Intervention Section is composed of 13 subspecialized clinical faculty physicians and two research scientists (Drs. Jamey Weichert and Christopher Brace). The clinical faculty are experts in the use of CT, ultrasound, MRI, plain radiographs, and fluoroscopy for diagnosis and intervention in the chest, abdomen, and pelvis. We are actively involved in advancing the research mission of the University of Wisconsin, with extensive grant funding and independent research laboratories in tumor ablation and diapeutic cancer agents. The section has an extensive educational component including hosting the radiology residency program director (Dr. David Kim) and two associate residency program directors (Drs. Jessica Robbins and Timothy Ziemlewicz). The section also contributes to medical student externships, and supports six abdominal radiology fellows per year.
The opening of the University of Wisconsin Digestive Health Center (DHC) on April 8, 2013 created the region's finest multi-disciplinary outpatient clinic serving patients with diseases of the esophagus, stomach, small intestine, colon, anorectum, liver, gallbladder/biliary tree, and pancreas. Located on the corner of University Avenue and Whitney Way, the $24 million project is part of a $100 million, 14 acre campus development.
The Abdominal Imaging and Intervention Section has a full time radiologist stationed at the Digestive Health Center, who is not only primarily responsible for covering the diagnostic imaging performed as part of the integrated care at the facility, but also provides basic procedural care, including paracentesis. In addition, the world-renowned University of Wisconsin Virtual Colonoscopy Program is continuing to expand its clinical and research excellence by providing both screening and diagnostic examinations at the facility. During construction of this facility, Dr. Michael Lucey, chief of the Department of Medicine's Division of Gastroenterology and Hepatology noted, "We have a national reputation for excellence in digestive health services, and this new facility will enhance the patient's experience, and meet the increasing complexities of our patient population."
The UW Digestive Health Center continues to eliminate the barriers between the multidisciplinary groups that care for patients with digestive issues, and represents a unique, unified approach that results in an efficient, patient-centric, and comprehensive experience.
The three story building is 67,000 square feet (21 clinic exam rooms, four minor procedure rooms, 14 endoscopy rooms, 49 prep/recovery rooms), and provides comprehensive radiology services. The radiology equipment sited at DHC includes a state-of the art CT scanner, a GE E9 US machine with a dedicated sonographer, a fluoroscopy suite, and radiography.
University Hospital is currently ranked among the nation's top 50 hospitals in the treatment of digestive disorders and this exceptional, world-class addition helps us provide even better patient care.
Take a virtual tour of the Digestive Health Centerexternal link