The educational opportunities and overall breadth of training in general and subspecialty radiology at the University of Wisconsin is exceptional. Our department boasts a large core of radiology faculty, many of whom are well-recognized leaders in radiology education on the national and international forums. The wide array of clinical and radiological diagnoses ranging from common community problems to high-end imaging of transplant and oncologic patients provides in-depth teaching opportunities by dedicated subspecialty faculty.
Clinical Training
 Reading Room Experience: Our program is strongly committed to Education with excellent one-on-one teaching in the reading room with nationally renowned radiologists. The academic year rotations are divided into thirteen, four-week blocks. Residents during their PGY2 are required to complete rotations in Pediatric radiology, Neuroradiology, Thoracic Imaging, Musculoskeletal radiology, CT, Ultrasound, and Gastrointestinal/Genitourinary Imaging prior to commencing call. During PGY3, PGY4 and PGY5 residents complete their required ACGME core rotations with numerous elective opportunities, both in diagnostic and procedural rotations. In addition, during the senior year (PGY5) residents can tailor their rotations to individual resident goals, with opportunities for three-six month "resi-fellowships" to gain additional experience in desired subspecialty areas. Opportunity to travel to Washington DC for the month-long American Institute for Radiologic Pathology course (AIRP) is also available during PGY4 and PGY5 years. Call Experience Residents take after-hours and overnight call, with graduated responsibility based upon the resident's level of training. Subspecialty trained radiology faculty are available around the clock to assist the residents, but residents are provided the opportunity to prescribe imaging studies and provide preliminary interpretations of imaging studies performed after hours. Both faculty and residents recognize that this call experience is an important learning experience, which furthers resident development in terms of clinical competence, confidence, and efficiency.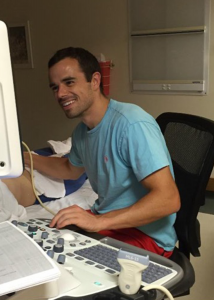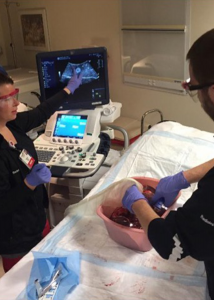 Ultrasound Scan Lab: Led by Dr. Lori Mankowski Gettle, the Ultrasound Scan Lab is a unique and voluntary opportunity for our residents to practice ultrasound scanning skills in a low stakes environment. This course runs over an eight-month period. Scanning sessions provide the residents with hands-on ultrasound skills, and are facilitated by trained sonographers and subspecialty faculty.  Each session has a general topic, which include knobology, abdominal, vascular, musculoskeletal, breast and pediatric ultrasound as well as ultrasound guided interventions. Resident participants report greater confidence with interpreting and trouble shooting ultrasound after participating.
Curricula and Lecture Series
Diagnostic Radiology Curriculum: The department of radiology has a structured and comprehensive resident curriculum that provide residents with the foundations of imaging sciences and non-imaging interpretive skills. Daily resident conferences are held every morning at 7:30 AM and 12:00 PM. Lectures series that are covered through the academic year include: Subspecialty Teaching Conferences: This is a rotating two-year resident curriculum, which includes a mix of didactic and case-based conferences that is provided by subspecialty radiology faculty. This curriculum is continuously being evaluated to incorporate resident feedback, update the lectures within the series as well as incorporate emerging technologies. Boot Camp Conference Series: This 10-week didactic lecture series is aimed at preparing residents for independent call. Topics covered include a wide array of radiologic diagnoses encountered during call. Senior Capstone Conference Series: This case-conferences series is geared towards PGY4 and PGY5  residents to refine their case presentation skills and consultation skills. Radiology-Pathology Correlation Series: This is a resident-led conference that is co-presented with Department of Pathology residents. The aim of this conference is to discuss the imaging and pathologic findings of interesting diagnoses and discuss their clinical implications. Multidisciplinary Teaching Conferences: These are subspecialty clinical weekly/bimonthly conferences that are led by radiology faculty, fellows and senior residents. All residents are encouraged to attend these conferences when they are rotating on their designated rotations. Radiology Resident Medical Physics Course: A two-year resident curriculum provided by faculty in the Department of Medical Physics, which covers the fundamentals of medical physics.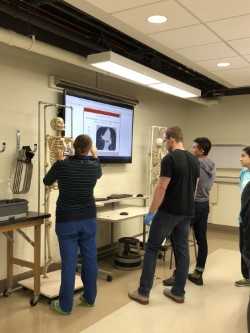 Imaging Informatics Leadership Program: The Imaging Informatics Leadership Program (IILP) is a lecture series focused on imaging and clinical informatics topics that are open to residents and faculty interested in learning more about informatics topics. For individuals interested in diving deeper, there are opportunities to participate in ongoing or new informatics departmental projects.  Residents as Teachers: The diagnostic radiology residency program identifies the educational value of incorporating residents in the teaching activities led by our radiology faculty, many of whom are leaders in the UW School of Medicine and Public Health. In addition to reading room teaching of medical students on radiology electives, residents participate in teaching 1st and 2nd year medical students as part of the integrated radiology-anatomy course led by Dr. Allison Grayev. Additional teaching opportunities are available for residents who wish to expand their teaching skills or seek a career in academics.