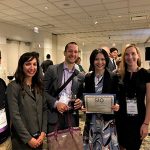 At the University Of Wisconsin Department Of Radiology, there are excellent opportunities for residents to participate in research projects with nationally and internationally renowned faculty. Although not required, the majority of residents engage in research endeavors during their residency career. These opportunities are facilitated by extensive guidance and mentoring by the faculty. There is Departmental support to present resident research at national and international Radiology meetings.
Residents who wish to be more involved in research have the opportunity to pursue the research resident track, or apply for research electives during their fourth year depending on their project's progress.
Resident Research Track:
This track is designed for residents with interest in pursuing an academic research career. The goal of this track is to allow the resident to fully integrate into the scholarly process of conducting research.  The resident is expected to complete at least one investigative project, ideally from project inception to completion, under the supervision of a faculty mentor.  This in-depth research track may take the form of laboratory research, clinical research, translational research, medical physics research, or other research approved by the Program Director.
Interested residents may apply for this track at the end of PG2 year, or beginning of PG3 of residency.  Only one resident per class may pursue this research track and the selection process is merit-based. Approved residents will be provided dedicated academic time during their PGY3, PGY4 and PGY5 years for in-depth research experience. Resident who apply for this track must have a faculty mentor to sponsor the track and a well-defined research project.  Residents applying for this track must be fulfilling all the academic milestones for their residency training and maintain this good standing to maintain this privileged time. Residents pursuing this track will be required to present their project(s) at the annual Radiology Research Symposium and the results of the project shall be suitable for submission to peer-reviewed scholarly journals and scientific meetings.
Schedule
PG1 – Suggested completion of prelim year at UWHC to yield (2) months elective time during Radiology residency, or at Program Director discretion.
PG2 – Standard Radiology resident curriculum. No dedicated research time
PG3 – Apply by October 31 to the Resident Education Committee for Research Track designation; 10% academic time after approval (one day/week/every other week).
PG4 – 10% academic time (one day/week/every other week).
The University of Wisconsin Department of Radiology Annual Research Symposium "The Zach Clark Research Symposium" The annual Department of Radiology research symposium is a sponsored Department of Radiology event to celebrate the high caliber research projects conducted by our medical students, residents, and fellows. This symposium is dedicated to the memory of Zachary Clark MS,…