Elizabeth S. Burnside, M.D., MPH, M.S.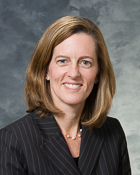 Professor (Tenure)
Vice Chair of Health Services and Outcomes


Section:
Breast Imaging

eburnside@uwhealth.org icon: send email
(608) 265-4099 icon: phone
Elizabeth Burnside is currently an Associate Professor of Radiology in the University of Wisconsin School of Medicine and Public Health. She got her M.D. combined with a master's in Public Health as well as a master's degree in Medical Informatics. As a result her research investigates the use of artificial intelligence methods to improve decision-making in the domain of breast imaging in the pursuit of improving the population based screening and diagnosis of breast cancer. This multidisciplinary research is facilitated by affiliate appointments in the Departments of Industrial Engineering, Biostatistics and Medical Informatics and Population Health Science at UW. Dr. Burnside has published over 40 peer review articles and serves as a charter member on the Biomedical Imaging Technology (BMIT) Study Section at the NIH. Her research has been funded by the NIH (predominantly the National Cancer Institute) and the DOD. Dr. Burnside is a subspecialty trained breast imager with an active clinical practice providing all imaging and interventional procedure utilized for the early diagnosis of breast cancer. Dr. Burnside was elected a Fellow in the Society of Breast Imaging in 2004. Most recent career milestones include assumption of the role of Vice Chair of Health Services and Outcomes in 2014, Vice Chair of Research in the Department of Radiology from 2010-2014 and selection as the Executive Leadership in Academic Medicine (ELAM) fellow for the UWSMPH for 2010-2011.
Undergraduate:
Dartmouth College
Medical School:
Tufts University School of Medicine
Residency:
University of California, San Francisco
Fellowship:
University of California, San Francisco
In the News