Roberta Strigel, M.D., M.S.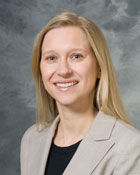 Assistant Professor (CHS)


Section:
Breast Imaging

RStrigel@uwhealth.orgicon: send email
(608) 265-0805icon: phone
Dr. Roberta Strigel is an assistant professor in the Breast Imaging Section of the Department of Radiology. She received an undergraduate degree in physics from Illinois Wesleyan University and undergraduate and master's degrees in engineering from Washington University in St. Louis. She returned to her home state of Wisconsin to attend medical school at the University of Wisconsin—Madison. She then completed her radiology residency and breast imaging fellowship at the University of Washington in Seattle and has a research interest in breast MRI. Outside of work, she enjoys spending time with her husband, son and daughter, as well as a variety of outdoor pursuits.
Undergraduate:
Illinois Wesleyan University, Washington University (St. Louis)
Graduate School:
Washington University (St. Louis)
Medical School:
University of Wisconsin-Madison
Residency:
University of Washington (Seattle)
Fellowship:
University of Washington (Seattle)
Active Research Projects
In the News