Frank J. Thornton, MD, FRCS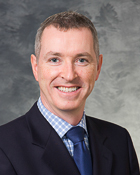 Dr. Frank J. Thornton is an associate professor of radiology at the University of Wisconsin–Madison where he is a member of the Community Radiology Section.

Dr. Thornton graduated medical school at University College Cork, Ireland and is double board-certified in Radiology and Surgery through the Royal College of Surgeons. He completed a 2-year Surgical Fellowship at Johns Hopkins Medical Institutions and achieved subspecialty fellowship training in Abdominal Imaging at Duke University Medical Center and MRI Imaging at the University of Wisconsin–Madison. Dr. Thornton is widely published in both the Surgical and Radiological literature and now has a career path that is focused on development of safe and state-of-the-art MRI Imaging in our community and outreach centers. Dr. Thornton's areas of interest include MR Angiography, Abdominal CT and MRI, and Pelvic MRI.

Dr. Thornton, his wife, Clodagh, and 3 children are on track to gaining US citizenship and enjoy the lifestyle they have been blessed with in Wisconsin, USA.
Education
Undergraduate:
University College Cork (Ireland)
Medical School:
University College Cork Medical School (Ireland)
Residency:
Beaumont Hospital and Royal College of Surgeons (Dublin, Ireland)
Fellowship:
Duke University Medical Center
Abdominal Imaging
University of Wisconsin Hospital & Clinics
MRI
In the News