Christopher J. François, MD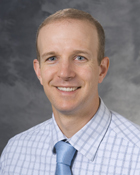 Dr. Christopher J. François is an associate professor of radiology in the Cardiovascular Imaging and Thoracic Imaging Sections. Dr. François is Chief of the Cardiovascular Imaging Section and Director of the Clinical MRI Fellowship. He joined the Department of Radiology in 2007 following completion of his fellowship in Cardiovascular Imaging at Northwestern University, Feinberg School of Medicine. Prior to residency in Diagnostic Radiology at Loyola University Medical Center, he spent a year doing cardiovascular MRI research at Northwestern University. His main areas of clinical expertise include noninvasive cardiovascular and thoracic imaging.

Dr. François has been actively involved in multiple projects with colleagues in medical physics, biomedical engineering, vascular surgery, pediatric cardiology, adult cardiology, and cardiac surgery on developing new MRI and CT techniques for noninvasive cardiac and vascular imaging. He has authored or been a co-author on more than 85 manuscripts, 8 book chapters, and more than 150 scientific abstracts. In 2009, he was a recipient of the MERC New Investigator Program for investigation of lower dose CT techniques. He has been and is a co-investigator on several NIH and other extramurally-funded studies developing new non-invasive cardiovascular MRI methods for improving our understanding of cardiovascular diseases. Current areas of active research include (A) 4D flow MRI in congenital heart disease, pulmonary hypertension, aortic dissection, portal hypertension, and pregnancy; (B) exercise stress cardiac MRI; (C) rapid, quantitative cardiac MRI; and (D) 3D printing of patient specific models for congenital heart disease and aortic dissection.
Education
Undergraduate:
Northwestern University (Evanston, IL)
Medical School:
Northwestern University Feinberg School of Medicine (Chicago, IL)
Residency:
Loyola University Medical Center (Maywood, IL)
Fellowship:
Northwestern University Feinberg School of Medicine (Chicago, IL)
Active Research Projects
Recent Posters
In the News