Christopher J. François, M.D.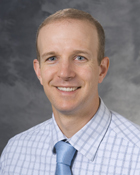 Associate Professor (CHS)


Sections:
Chief of Cardiovascular Imaging
Thoracic Imaging

cfrancois@uwhealth.orgicon: send email
(608) 263-1198icon: phone
Dr. Christopher J François is an Assistant Professor of Radiology in the Cardiovascular and Thoracic Sections. Dr. François joined the UW Department of Radiology in 2007 following completion of his fellowship in Cardiovascular Imaging at Northwestern University, Feinberg School of Medicine. Prior to residency at Loyola University Medical Center, he spent a year doing cardiovascular MRI research at Northwestern University. His main areas of interest are in noninvasive cardiac and vascular imaging.

Since arriving at the University of Wisconsin, Dr. François has been actively involved in several projects with colleagues in the departments of Medical Physics, Biomedical Engineering, Vascular Surgery, Pediatric Cardiology, and Adult Cardiology on developing new MRI and CT techniques for noninvasive cardiac and vascular imaging. He has authored or been a co-author on more than 20 manuscripts, 3 book chapters, and more than 30 scientific abstracts. In 2009, he was a recipient of the MERC New Investigator Program for investigation of lower dose CT techniques. He is also a co-investigator on an NIH-funded study for the development of a new noninvasive method of evaluating renal artery stenosis.

Interests outside of radiology include soccer, bicycling, fishing, and travelling.
Undergraduate:
Northwestern University (Evanston, IL)
Medical School:
Northwestern University Feinberg School of Medicine (Chicago, IL)
Residency:
Loyola University Medical Center (Maywood, IL)
Fellowship:
Northwestern University Feinberg School of Medicine (Chicago, IL)
Active Research Projects
In the News