Personal Links
Section Links
Donna G. Blankenbaker, MD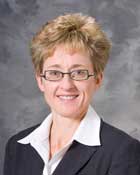 Dr. Blankenbaker is a professor of radiology, the medical director of outpatient radiology and co-director of medical student radiology education. She joined the University of Wisconsin (UW) School of Medicine and Public Health faculty in 2001 after completing her residency in 2000 and her musculoskeletal radiology fellowship in 2001.

Dr. Blankenbaker was selected for the AUR-Philips Academic Faculty Development Program in 2004, received the RSNA Seed Grant in 2006, and was selected for the American Roentgen Ray Society Figley Fellowship in Radiology Journalism in 2007. She also received the Outstanding Medical Student Teaching Award from the University of Wisconsin in 2007. Dr. Blankenbaker is currently the musculoskeletal section editor of the American Journal of Roentgenology (AJR). She is a scientific journal editor and reviewer for the American Journal of Roentgenology and Skeletal Radiology. She serves on five UW Hospital and Clinics and Department of Radiology committees and six national committees. In 2010, Dr. Blankenbaker participated in the International Skeletal Society Outreach Program in Oman and the RSNA International Visiting Professor Program to Brazil.

Dr. Blankenbaker's research interests include hip imaging and sports medicine injuries. Her work has resulted in 55 research and review articles, 3 book chapters, and 1 web article. She has made 48 national and international presentations and 18 regional presentations. She has been invited to moderate 6 scientific sessions at national and international meeting and has 36 abstracts.
Education
Undergraduate:
University of Nebraska
Medical School:
University of Nebraska Medical Center
Residency:
University of Wisconsin Hospital and Clinics
Fellowship:
University of Wisconsin Hospital and Clinics
In the News