Dr. Jeannine Ruby Completes ABC News Resident Rotation Program
Posted on Dec 20, 2017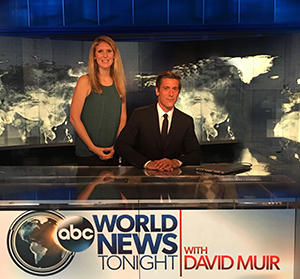 Dr. Jeannine Ruby, a fourth-year diagnostic radiology resident at the University of Wisconsin, recently worked with the ABC News Medical Unit in New York City as part of their Resident Rotation Program. Her work with this program is one of several exciting positions she has taken working with medicine in media while completing her residency training.

Following medical school, Ruby began training in general surgery at the University of Connecticut and researched colorectal cancer at Memorial Sloan Kettering Cancer Center before deciding to make the switch to diagnostic radiology. Before beginning her diagnostic radiology residency at the University of Wisconsin, she moved to Los Angeles in order to work as a Medical Communications Fellow for the ABC television show "Grey's Anatomy." Dr. Ruby explained that this venture into the world of medicine in the media "opened my eyes to how dramatic storytelling can serve as a forum for public health education."

While continuing her diagnostic radiology training, Ruby heard about the ABC News Medical Unit Resident Rotation Program from Dr. Hope Jackson, a surgeon at the University of Maryland Medical Center who had previously participated in the program. After discussing the program with the directors of the diagnostic radiology residency program here at UW, they encouraged her and approved the experience as a four-week away elective.

The primary focus of her time at ABC was in critically reviewing journal articles that had been accepted for publication but not yet released. The articles were given to news outlets by prominent medical journals that felt the articles warranted additional media coverage upon their publication. ABC could prepare articles or video segments to coincide with the publication of the articles. One example that Dr. Ruby noted was the publication of an article on the force of helmet impacts among youth football players. Ruby reviewed and summarized the article and producers decided to run a segment on Good Morning America about the study which was seen by millions of viewers.

Another focus of her time with ABC was writing numerous "Medical Minutes," one-minute video segments which aired on ABC affiliates across the country. These segments covered key topics such as diabetes, obesity, and cancer. Dr. Ruby also wrote two larger stories for ABCNews.com covering current news in medicine. For her first byline, which can be read here, she wrote on the conditions in Puerto Rico after Hurricane Maria and how those conditions are likely to affect the spread of disease.

Following her time at ABC News, Ruby has remained in contact with her former colleagues at ABC, suggesting interesting case stories to their medical dramas and ABC News. Ruby sees her work in media as a continuation of her patient care as a physician. "It is an honor and a privilege to work as a physician and I am grateful that I am able to care for patients every day. When I work in media, I continue to care for people by ensuring the health information I share is accurate." She will be sharing about her time with the ABC News Medical Unit at her upcoming Radiology Grand Rounds presentation on Thursday, December 21 at noon.

More news:
CT Protocol Optimization Project Update

Growing Radiology Subspecialty Gives Students Chance to Learn and Interact

Radiology Team Hones New Cancer Treatment Focusing on Tumor Ablation

Dr. Lubner Selected for 2018 Figley Fellowship

Weaver Named Diversity Advocate

3rd Annual University of Wisconsin Interventional Radiology Symposium

Breast Imaging Section Leadership Announcement

NIH Continues Funding for Dr. Reeder's Liver Disease Research

Dr. David Bluemke Presents Stanford University Grand Rounds

Dr. Avey Selected As ASNR Outreach Professor

Aunt Minnie Features UW CT Time Efficiency Study