Cai and Hernandez Developing New Ways to Gauge Diabetes Progression, Treatment
Posted on Aug 11, 2017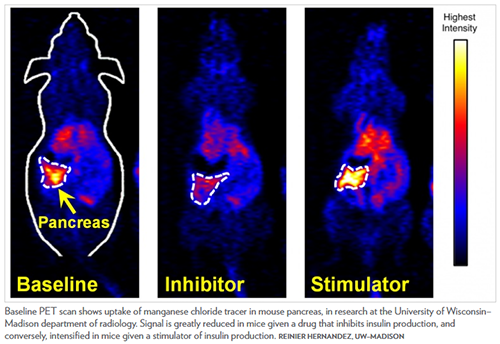 A promising new method for gauging diabetes progression and treatment is featured in the August issue of the journal Diabetes.
Researchers at the University of Wisconsin–Madison have developed a new measurement for the volume and activity of beta cells, the source of the sugar-regulating hormone insulin.

In a study published in the August edition of the journal Diabetes, Weibo Cai and colleagues used a PET scanner to detect minute levels of a radioactive chemical in the mouse pancreas. Cai, the senior author of the study and an associate professor of radiology, says that unlike previous methods for measuring the quantity of beta cells, the new test also measures how actively these cells are making insulin.

PET scanning, or positron emission tomography, is used to detect minute quantities of tracers, commonly for finding cancer and metastases. This area is a specialty of Cai. Cai says the test may be used to evaluate treatments or cell transplants intended to slow or reverse diabetes.
Read more about it at
news.wisc.edu
, or
see the full published article at diabetesjournals.org
.
More news:
CT Protocol Optimization Project Update

Growing Radiology Subspecialty Gives Students Chance to Learn and Interact

Radiology Team Hones New Cancer Treatment Focusing on Tumor Ablation

Dr. Lubner Selected for 2018 Figley Fellowship

Weaver Named Diversity Advocate

3rd Annual University of Wisconsin Interventional Radiology Symposium

Breast Imaging Section Leadership Announcement

NIH Continues Funding for Dr. Reeder's Liver Disease Research

Dr. David Bluemke Presents Stanford University Grand Rounds

Dr. Avey Selected As ASNR Outreach Professor

Aunt Minnie Features UW CT Time Efficiency Study

Dr. Jeannine Ruby Completes ABC News Resident Rotation Program