Dr. Pickhardt Receives Dean's Award for Excellence in Medical Student Research Mentorship
Posted on Aug 4, 2017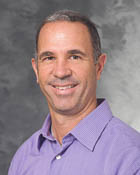 Dr. Perry Pickhardt has recently had the honor of receiving the Dean's Award for Excellence in Medical Student Research Mentorship. The award honors one SMPH faculty member each year who has performed exceptional service outside of the classroom as a research mentor for medical students. Winners are selected based on the criteria of extraordinary and sustained dedication in support of student research mentorship, and a demonstrated high level of research mentoring effectiveness as evidenced by student research scholarship and evaluations. The Dean's Teaching Awards were created in 1992 with the Research Mentorship Award being added in 2011. Winners of these awards are peer-selected by a committee of previous recipients of the awards.

Pickhardt is the Chief of Gastrointestinal Imaging in the Department of Radiology and throughout his career at UW has taken an active role in mentoring students. In addition to mentoring more than a dozen students in the Shapiro Summer Research Program, he has also worked with students as part of the Research Honors Program and the ICTR-Shapiro Research Fellowship, a program which allows a current medical student to conduct full-time research over the course of 12 months with the help of a mentor. His effort and dedication has assisted dozens of students in conducting high quality research, leading to publication in peer-reviewed journals and presentations at scientific meetings. One of the students who has benefited from Pickhardt's mentorship as part of the ICTR-Shapiro Research Fellowship is Scott Lee, who shared about his projects and the support he received from Department of Radiology faculty earlier this year.

Previous winners of Dean's Teaching Awards from the Department of Radiology include Drs. Tabassum Kennedy and Lonie Salkowski.
More news:
3rd Annual University of Wisconsin Interventional Radiology Symposium

Breast Imaging Section Leadership Announcement

NIH Continues Funding for Dr. Reeder's Liver Disease Research

Dr. David Bluemke Presents Stanford University Grand Rounds

Dr. Avey Selected As ASNR Outreach Professor

Aunt Minnie Features UW CT Time Efficiency Study

Dr. Jeannine Ruby Completes ABC News Resident Rotation Program

Faculty and Alumni Gather at RSNA 2017

UW Badger Radiologists to Leave Mark on RSNA 2017