Dr. Scott Nagle Featured in Interview by British Institute of Radiology
Posted on Aug 4, 2017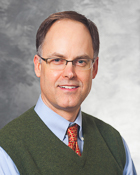 On July 12, Dr. Scott Nagle, associate professor in the Department of Radiology, and Dr. Michael Repplinger, an assistant professor in the Department of Emergency Medicine, took part in a podcast hosted by the British Institute of Radiology where they discussed a recent review paper authored by several members of the Department of Radiology and published in the British Journal of Radiology.

The paper was authored by cardiothoracic fellow Dr. Donald Benson, Department of Radiology Drs. Mark Schiebler, Christopher François, Scott Reeder, and Department Chair Thomas Grist in addition to Nagle and Repplinger. The paper dealt with techniques for using contrast-enhanced pulmonary MR angiography (MRA), specifically in the case of detecting pulmonary embolisms. In the podcast Nagle and Repplinger compared MRA to CT angiography (CTA), which is considered the gold standard in detecting pulmonary emboli. They discussed the strengths and weaknesses of each modality such as image quality, cost, health risks, and diagnostic efficacy vs. clinical effectiveness.

One of the largest studies to date comparing contrast-enhanced MR angiography to CT angiography, PIOPED III, found that MRA wasn't as effective in detecting pulmonary embolism, but the study also noted that a large part of this disparity was due to a lack of technical success and experience with the MR techniques used at certain sites. A key part of the interview focused on the way that MRA is utilized at the University of Wisconsin and how techniques used here allow outcomes following MRA to be comparable to outcomes following CTA. These techniques range from the dilution and delivery of the contrast agent to different breathhold and free-breathing acquisitions and even to emerging technologies such as the ultrashort echo time technique and new contrast agents. They also noted operational changes implemented here which benefit the patient in terms of cost, time, and comfort.

Listen to the entire podcast at BIR Publications.
More news:
CT Protocol Optimization Project Update

Growing Radiology Subspecialty Gives Students Chance to Learn and Interact

Radiology Team Hones New Cancer Treatment Focusing on Tumor Ablation

Dr. Lubner Selected for 2018 Figley Fellowship

Weaver Named Diversity Advocate

3rd Annual University of Wisconsin Interventional Radiology Symposium

Breast Imaging Section Leadership Announcement

NIH Continues Funding for Dr. Reeder's Liver Disease Research

Dr. David Bluemke Presents Stanford University Grand Rounds

Dr. Avey Selected As ASNR Outreach Professor

Aunt Minnie Features UW CT Time Efficiency Study

Dr. Jeannine Ruby Completes ABC News Resident Rotation Program