Dr. Burnside Appointed to Key Leadership Roles Within SMPH & ICTR
Posted on Jul 14, 2017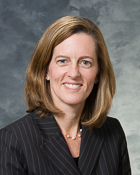 Congratulations to Dr. Elizabeth Burnside, Professor of Radiology and Chief of the Breast Imaging Section, on her new appointment as Associate Dean of Team Science and Interdisciplinary Research as well as Deputy Executive Director of the UW Institute for Clinical and Translational Research!

In her new role which began July 1, Dr. Burnside joins the leadership team at the Institute for Clinical and Translational Research (ICTR) and will work towards their goal of creating an environment that transforms research into a continuum from investigation through discovery and translation into community practice. This includes fostering close collaboration between the ICTR members which include the Schools of Medicine and Public Health, Nursing, Veterinary Medicine, and Pharmacy. Creating an environment of collaboration seems to be no problem for Dr. Burnside who, in addition to her role in Radiology, holds affiliate appointments in the Departments of Biostatistics and Medical Informatics, Population Health Science, and Industrial Engineering through her career of multidisciplinary research.

Dr. Burnside will continue as Breast Imaging Section Chief until the end of 2017 but stepped down from her position as Vice Chair of Health Services and Outcomes on July 1. She will continue to lead her highly successful research program as well as providing clinical care in Breast Imaging as a member of the Department of Radiology.
More news:
CT Protocol Optimization Project Update

Growing Radiology Subspecialty Gives Students Chance to Learn and Interact

Radiology Team Hones New Cancer Treatment Focusing on Tumor Ablation

Dr. Lubner Selected for 2018 Figley Fellowship

Weaver Named Diversity Advocate

3rd Annual University of Wisconsin Interventional Radiology Symposium

Breast Imaging Section Leadership Announcement

NIH Continues Funding for Dr. Reeder's Liver Disease Research

Dr. David Bluemke Presents Stanford University Grand Rounds

Dr. Avey Selected As ASNR Outreach Professor

Aunt Minnie Features UW CT Time Efficiency Study