UW Radiology Shapiro Student Wins Society of Breast Imaging Research Award
Posted on Apr 12, 2017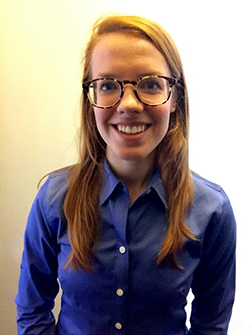 Evie Adams, a 2016 Summer Shapiro Student, along with her mentor Elizabeth Burnside, MD, MPH, MS, and two fellow researchers, John Hampton, MS, of the UW Carbone Cancer Center, and Christina Shafer, PhD, of the UW Department of Radiology, studied the benefits and harms of mammography screening using a risk-based screening approach as opposed to the traditional age-based screening approach in women age 40-49.

As lead author, Adams submitted an abstract to the Society of Breast Imaging (SBI) in November 2016 titled, "The Complexity of Evaluating Screening Mammography Strategies in Women 40-49 Based on Benefits and Harms." The team found that a risk-based screening program for women age 40-49 can result in significantly higher benefits and lower harm compared to women of the same age in an age-based screening program. Conversely, no significant difference was found in harm or benefit when comparing women age 40-49 not participating in either risk-based or age-based screening programs. This research is highly relevant because clinical policy decisions are often heavily influenced by these benefit-to-harm ratios that are based on breast cancer incidence, biopsy, and imaging recall rates.

Adams was awarded the Gerald D. Dodd Jr. Research Award for Medical Students and presented her award-winning abstract on April 6, 2017, at the SBI/ACR Breast Imaging Symposium in Los Angeles.

Adams is a second-year medical student here at UW Madison. She graduated with a bachelor of science in Mechanical Engineering from Massachusetts Institute of Technology in 2013 and then worked as a software developer until 2015 when she started medical school. She is interested in radiology, women's health, and the intersection between healthcare and technology.

This opportunity was made possible by the UW School of Medicine and Public Health Shapiro Summer Research Program, the Wisconsin Partnership Program, and UW Department of Radiology Research and Development funds.
More news:
3rd Annual University of Wisconsin Interventional Radiology Symposium

Breast Imaging Section Leadership Announcement

NIH Continues Funding for Dr. Reeder's Liver Disease Research

Dr. David Bluemke Presents Stanford University Grand Rounds

Dr. Avey Selected As ASNR Outreach Professor

Aunt Minnie Features UW CT Time Efficiency Study

Dr. Jeannine Ruby Completes ABC News Resident Rotation Program

Faculty and Alumni Gather at RSNA 2017

UW Badger Radiologists to Leave Mark on RSNA 2017