Reeder & Blankenbaker Awarded RSNA Grants
Posted on May 17, 2006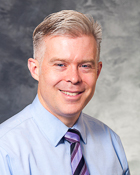 Congratulations to Scott Reeder and Donna Blankenbaker for being awarded grants by the RSNA Research & Education Foundation Board of Trustees.
Reeder earned a 2-year Research Scholar Grant for "Quantification of Hepatic Steatosis with Magnetic Resonance Imaging." His project aims to solve a critical unmet need to non-invasively quantify hepatic steatosis without the inaccuracy, danger, and cost of biopsy. Successful completion will have tremendous impact on diagnosis, early intervention, and therapeutic monitoring of non-alcoholic fatty liver disease. The award is for $152,000.
Blankenbaker's RSNA Seed Grant is directed at new researchers and provides $30,000 for one year for a study titled, "The Effect of Spinal Fusion on the Water Content and Mobility of the Adjacent Intervertebral Disks ("Junctional Disks") Measured with Quantitative MR and Dynamic CT." This pilot study will provide objective measurements of the effect of spinal fusion on the biomechanical and biochemical integrity of junctional intervertebral disks in patients who undergo a spinal fusion.
More news:
3rd Annual University of Wisconsin Interventional Radiology Symposium

Breast Imaging Section Leadership Announcement

NIH Continues Funding for Dr. Reeder's Liver Disease Research

Dr. David Bluemke Presents Stanford University Grand Rounds

Dr. Avey Selected As ASNR Outreach Professor

Aunt Minnie Features UW CT Time Efficiency Study

Dr. Jeannine Ruby Completes ABC News Resident Rotation Program

Faculty and Alumni Gather at RSNA 2017

UW Badger Radiologists to Leave Mark on RSNA 2017