Dr. Grist Makes Headlines at WI Medical Imaging Event
Posted on Apr 6, 2012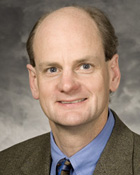 UW Department of Radiology Chair Dr. Thomas Grist recently spoke at \"Wisconsin\'s medical imaging cluster: From discovery to delivery,\" an event that discussed Wisconsin\'s billion-dollar medical imaging industry and UWHC\'s collaboration with GE Medical.

\"We\'re excited about radiology, medical physics, improving human health, and the collaboration that will lead to new products,\" Dr. Grist said.

To read more about the event and how the UW Department of Radiology is a key player in one of Wisconsin's leading industries, read the full articles at madison.com (external link) and wisbusiness.com (external link).
More news:
Dr. Sadowski Appointed As Vice Chair Of CHS Promotion Committee

Drs. DeMartini And Fowler To Serve On ACR Breast Imaging Comission

Cardiovascular Imaging Section Highlighted

UW Tumor Ablation Lab Study Featured In New JVIR Ablation Resource Center

Dr. Reeder Awarded NIH Mentorship Grant, Elected To SCBT-MR Board Of Directors

Comings & Goings

Updates From The UWHC School Of Diagnostic Sonography

UW Impresses With Distinguished Investigator Awards

Shoulder Arthritis: Beyond The Basics

Traumatic Finger Injuries

ASRT@RSNA

UW Finds Success At RSNA '14

Tech Highlight: Volume Of Interest Mode

Section Highlight: Imaging Sciences

Radiology's Commitment To Research And Patient Care Inspires

Physician or Scientist, Why Not Both?