Prabhakaran Lab Wins NER Foundation Award
Posted on Nov 24, 2008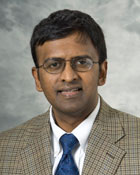 The research lab led by Dr. Vivek Prabhakaran has been awarded a 1-year $60,000 award from the Neuroradiology Education and Research Foundation for its grant titled "Characterizing the Neural Substrates of Stroke Recovery Utilizing fMRI and Perfusion Imaging."

Stroke is one of the most significant causes of morbidity and mortality in our society. Currently much of the research and treatments are aimed at interventions to improve brain perfusion in the acute to sub acute time period after stroke which occur mainly in the few days of hospital admission. On the other hand, there are no significant guidelines that have been established in terms of brain perfusion management with respect to treatments and interventions such as carotid endarterectomy, stenting, and medical blood pressure management in the chronic period after stroke. In fact, studies have shown mixed results with some showing improvement and some showing decline after these interventions. Given these results, it is important to predict if improving perfusion to brain regions in the chronic setting will be beneficial before the intervention is performed. It is possible that the hypoperfused brain in the chronic setting may have undergone reorganization by recruiting additional brain regions to compensate for dysfunction of brain regions; if so therapies aimed at improving perfusion to these chronically hypoperfused regions may not be of benefit.

One of the goals of the ASNR NER Foundation research proposal will be to characterize brain regions involved in functional recovery after stroke secondary to chronic perfusion changes using fMRI and Stroke Imaging. This will allow one to identify the brain reorganization changes and optimize the time period for providing intervention aimed at improving perfusion to the brain. This will expand the potential for a range of reperfusion strategies aimed at not only acute but potentially chronic hypoperfusion with therapies such as stenting, carotid endarterectomy, and may provide a more rational basis for medical blood pressure management as well. This may also provide important information in planning rehabilitation in the chronic period after stroke.
More news:
3rd Annual University of Wisconsin Interventional Radiology Symposium

Breast Imaging Section Leadership Announcement

NIH Continues Funding for Dr. Reeder's Liver Disease Research

Dr. David Bluemke Presents Stanford University Grand Rounds

Dr. Avey Selected As ASNR Outreach Professor

Aunt Minnie Features UW CT Time Efficiency Study

Dr. Jeannine Ruby Completes ABC News Resident Rotation Program

Faculty and Alumni Gather at RSNA 2017

UW Badger Radiologists to Leave Mark on RSNA 2017