Neuroradiology @ UW
Neuroradiology Fellowship
Program Information
Overview & Training Prerequisites
The neuroradiology training program emphasizes excellence in teaching, cutting edge technology, and superb case material. It is supported by the University of Wisconsin Medical School Department of Radiology, University Hospital, American Family Children's Hospital, and the William S. Middleton Memorial Veterans Hospital. Prerequisites for the training program include completion of an approved residency training program in radiology. The first year of the neuroradiology program is accredited by the American College of Graduate Medical Education (ACGME).
Applicants will be considered for both one year and two year training programs. The two year diagnostic training program is divided into a 12-month fellowship and a 12-month clinical instructorship. Following completion of the first year, candidates will be eligible for the certificate of added qualification (CAQ) in neuroradiology.

Techniques
Fellows and instructors gain experience in a wide variety of neuroradiology procedures (~30,000/yr), including advanced techniques such as:
functional magnetic resonance imaging (fMRI)
MR spectroscopy
advanced diffusion and perfusion MRI
diffusion tensor MRI
advanced magnetic resonance angiography
CT perfusion
Head and neck imaging: Neuroradiology fellows will rotate through a dedicated head and neck (H&N) imaging training program during the course of their fellowship. The time spent in this rotation will consist of approximately one fourth of the fellow's total time. The H&N rotation will include training in all aspects of CT and MR imaging of the adult and pediatric orbit, temporal bone, sinuses, neck, cranial nerves, and skull. The rotation is staffed by three faculty members who are active in the American Society of Head and Neck Radiology. Fellows are encouraged to pursue research opportunities during this rotation.
Educational Opportunties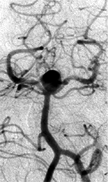 Formal teaching includes weekly neuroradiology seminars specifically for the neuroradiology fellows. Additional interdisciplinary, brain cutting, and departmental conferences are also held weekly. A monthly journal club is incorporated into neuroradiology fellows' schedules.